Who was John Bayley of All Hallows Parish?
Bayly, [A]lies
daughter of John and Perseverance
Burial: Aug. 24, 1697
Source: IBID p. 5 ]

Bayley, Perseverence
wife of John
Burial: Oct. 14, 1704
Source: [IBID1, p. 23 ]

Bayly, John
Burial: Dec. 5, 1710
Source: SPECIAL COLLECTIONS (All Hallow's Protestant Episcopal Church Collection) Parish Register 1669-1721, p. 43, Parish Register 1700-1724, p. 6 [MSA SC 2458 M 221


Perseverence Bayley was Perseverance Wade, dau. of Robert Wade (Sr.).

ROBERT WADE'S will, dated 28 Sep 1694, proved 13 Nov 1694:
-- To SON ROBERT, 100 a. adjoining plantation; he dying without issue to pass to GRANDSON, ROBERT BAYLY and heirs.
-- To DAU. JANE and heirs, plantation.
-- To DAU. TEMPERANCE, plantation aforesaid should dau. Jane die without issue.
-- To THOMAS BAYLY AND DAU. PERSEVERANCE BAYLY, AND TO GRANDCHILD JANE WESTALL, personalty.
Executors: SON ROBERT AND DAU. JANE aforesaid.
Overseers: SON GEORGE WESTALL AND WM. BATEMAN. Test: ROBT. HOPPER, GEO. WESTALL, SARAH WESTALL, WM. BATEMAN.
-- Information from Derek Gilbert who has provided an answer to the question "Who Was John Bayley?"
According to this information, Perseverence's sister Sarah was wife of George Westall, of West River who was from North Riding. (In 1683, a mysterious William Rawlings wit. the will of prominent Quaker George Skipwith at the Quaker community of West River/Herring Creek.) In Apr. 1677 Edward MARYARTE/MARIARTE, AA, planter, with dower released by wf. Honour, granted to
John SELLMAN
& Geo. WESTFALL, parcel lately sold to sd. MARIARTE by
Ann MOTT, als. LAMBERT
, bounded by Patrick DUNKINS [Dinkins?]& Mareen DUVALL. Rerecorded at request of
Joseph BURTON
on behalf of the orphans of George WESTALL & John SELLMAN.
Perseverence Bayley's neice, that is, Sarah Wade and George Westall's dau. Jane m. William Ridgely Jr, Mar 04, 1701/02- son of Elizabeth Clarke (dau. of Rachel Beard and Neil Clarke, and sister of Richard Clarke) and William Ridgely I (b. 1645 in Lavenham, Suffolk Co., England; d.
1716 in Anne Arundel Co., MD). Jane Westall (d. 1726) was therefore sister-in-law to John Rawlings (Aaron Rawlings ward, and son of Richard Rawlings and Jane Gollison) who m. William Jr.s sister Eleanor Ridgely on Jan. 13, 1711/12. The inventory of Jehosephat Ridgely, Wm. Jr.'s brother & Jane Westall's brother-in-law, 30 Mar. 1726 lists John Rawlings and William Ridgely as next of kin. But family tree of Richard Rawlings has John Rawlings date of death as Jan. 13, 1726/7, with Eleanor Ridgely dying c. 1727. Jane's dau. Martha m. . Edward Rumney, brother or father of Mary Rumney, who is shown on family charts as marrying Daniel Rawlings, son of Aaron I, had tie-ins to the Maccubin family as follows:
St. Anne's Parish records: " St. Anne's, all recorded together, John MACCUBIN & Ann had Samuel, b. 20 Jan. 1698; Debrah, b. 23 S 1700; Ann, b. 7 Oct. 1702; William, b. 21 Mar. 1704; Rachel, b. 26 Mar. 1707, John, b. 28 Aug. 1709; Zachariah, b. 11 ( ) 1712; & Moses, b. 30 ( ) 1714. Godparents of Ann & Wm., both bpt. 1706, were Andrew WELPLY (sic, WELLSLY), Ed. RUMNEY, Mary GWIN & Ann READING. // Ann MACCUBBIN of John, m. 14 Feb. 1726, St. Anne's, James PEERMAN. // John MACCUBIN (s/o Wm.) & Martha had son William, b. 3 Jan. 1732; John, b. 14 Mar. 1734/5; Joseph, b. 12 Jan. 1738; Martha, b. 27 Mar. 1741/2; & Jane, b. 8 July 1744, all at St. Anne's."
Also:
"Bond: Thos. TOLLEY, Henry PINCKNEY, Edward RUMNEY, Chas. KILBORNE, Christopher SMYTHERS, & Wm. GIBBONS, AA, are bound to John, Samuel, & Eiz. MACCUBBINS, sons & dau/o John & Deborah MACCUBBINS, 15 Mar. 1706/7, per will of Samll. COWARD (sic HOWARD), AA, decd. (I don't know what this means).
In 1666, Richard Beard and wife Rachel deed "Brampton" to a John Maccubbin.
So who was John Bayley? He was
age 60
at time of his death, and so born c. 1650. His
will
, dated 2 Oct 1710 and probated 24 Jan 1711, divided his property, Danby Hills "377 a. on Gunpowder River adjoining on the White Marsh"- ,-- - between sons John, William, and Thomas. Exector was "son
John Durdin
." Test: Wm. Phelps, Elizabeth Phelps, Richard Morgan.[Evidence that he may have been related to the Morgans follows below] John Bayley had acquired Danby Hills on Gunpowder from George Burgess: "Grantor: George Burgess, AA Co, Gent. Grantee: John Bailey AA Co, carpenter. Date of Deed :
14 Oct. 1697
. Date recorded: March 20, 1702/3. Consideration 4,000 lbs. tobacco. Signatures, : George Burgess, Kath. Burgess Wit. Tho Reynolds. Description : That tract known as Danby Hills, near head of Gunpoweder back River, Baltimore Co, laid out for 353 acres. "
Abstracts of Land Reocrds Anne Arundel County, Maryland. 1699-1709, Vol. II
. The Anne Arundel County Genealogical Society, Pasadena, Maryland 21122. .[Other Baltimore Co. Bayleys do appear in the Maryland records: "Guardians of Bayley's orphans" are mentioned in the tax records of the
Council of Maryland, 1675
, and a Godfrey Bailey is commissioned in Baltimore in 1664 :" Persons added to the Common of Baltemore County: Geo: Gouldsmyth Nath. Styles & Godfrey Bayley dated the
3d of Octobr 1664
: Commission then issued impowring George Gouldsmyth Capt of the ffoot in Baltemore County)]
Thomas Roper, of "Roper's Range", PG County (just over border and close to All Hallows Parish) sold "Roper's Range" to Richard Clarke, who sold it to Aaron RAwlings I. Thomas Roper's name next appears on lands in North Carolina, (Bath) including this one: Lot [in Bath County NC] assigned by Thomas Roper to Captain John Bayley of Philadelphia Feb. 27, 1707. Thomas Roper (.b. 8 Nov 1679) and John Bayley may have been related, therefore. Thomas Roper's parents were
William Roper and Alice Morgan
, widow of Jarvis Morgan.
---
More John Bayley Clues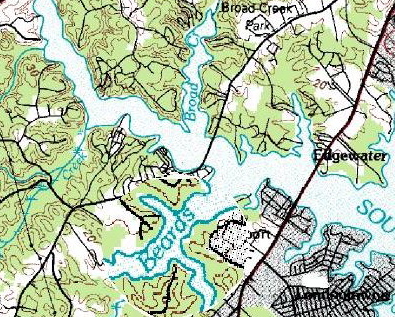 4 Mar 1713: Robert Bailey, planter, is grantor of a tract called Rich Neck to Joseph Howard, lying on south side of South River on west side of Jacob's Creek [Beard's Creek], by land formerly owned by John Clarke, laid out for 100 acres, to have and hold for 21 years. Deed recorded 22 June 1714. Consideration: 5 pounds and other considerations. Witnessed by John Beale, Nicholas Lowe, Edward Rumney. (Anne Arundel County, MD, Land Records Book PK, p. 147.)

Note: This would most likely be the 100 acres he inherited when his uncle, Robert Wade (see above), died in 1706. Robert Wade was buried at All Hallow's P. E. Church in Anne Arundel County on 4 July 1706.

Aug 1714: Possibly the "Robert Baly" married to Sarah Smith in Anne Arundel County.

15 Jun 1715, Josiah Wilson of Prince George's County ("gentleman") conveyed the deed for Rich Neck to Joseph Howard for 100 pounds consideration. Tract described as by a deep valley in line of Richard Cheeny, now in possession of John Durdon. (Anne Arundel County, MD, Land Records Book PK, p. 149.)

(Note: Is John Durdon the same man as the executor of Robert's father's will?).


-- Clues provided by Derek Gilbert who has provided an answer to the question "Who Was John Bayley?"
---
Interesting Bayleys of Maryland
There are interesting Bayleys throughout the records of Maryland, and the archivists have even written up some of the Bayley-related events:
Kilty's Land-Holder's Assistant, and Land-Office Guide
Volume 73, Page 212


LIBER No. 11, fol. 347.

The following case ...shews several assignments of a patent, and illustrates some
other principles.

John Bayley by his petition, sets forth that he has a legal right to three hundred acres of land, called Nunsoake, bought and paid for by his father, who was afterwards killed in the proprietary's service3ò4that being under age, he is incapable of obtaining possession thereof, and therefore prays
that his lordship would confirm to him the said land, &c."

Underneath the petition are the following entries.

" On the back side of a pattent granted to John Nun, for three hundred acres of land, bearing date the 11th day of

October, anno 1647, was thus written, (viz.) This patent, with all my right, title and interest, is assigned over to John Bayley or his assigns, this seventeenth of March, 1653, by
me

" WALTER DEANE, administrator of John Nun.

" Testes,

" John Haman.

" This patent, with all my right, title and interest is
assigned over to Thomas Phillips, or his assigns, this 12th
of April 1655.

Signum
ELLINOR >< BAYLEY.

Testis,)Wm. Bretton and
)Walter Hall."

" This patent with all my right, title and interest is
assigned over to Luke Barker, or his assigns, this sixteenth of
February, 1657. his
THOMAS >< PHILLIPS,
mark.

Testis)Wm. Bretton
)Walter Hall.

" This patent, with all my right, title and interest is assigned over to Thomas Phillips, or his assigns, this 8th of January, 1658.

L. BARBER."

"The governor without respecting the assignment of Nun's administrator to Bayley that of Elinor Bayley (apparently the widow of John) to Philips, or the subsequent assignments between Philips and Barber, determines the land to have become escheat by the original patentees dying intesttate and without lawfull issue, and passes a grant to Bayley, the petitioner."
There was a John Bayley in Calvert County (which is near Charles County) who was in very big disputes with his partner, Staplefort, which included a dispute with John Hawkins, who along with a Wells, or Wills, freighters, who refused to return Bayley's vessel, the Providence, which had been chartered at Long Island. The Sheriff of Calvert County at the time was Thomas Sprigg, who was accused by Staplefort of being "confederate w/ Bayley", resulting in Sprigg's being censured, apparently, by the Governor.
Sprigg sued Staplefort, in an eloquent plea
, and which mentions his having lived in England and in Virginia. (see below). Maryland Archivists wrote about this John Bayley, in the Preface to Vol. 49:
Proceedings of the Provincial Court, 1663-1666
Volume 49, Preface 19
(Connections w/ Long Island, and even perhaps Rhode Island, are suggested by the following? A John Bayley appears as co-investor in the will of a
Long Island
(Queens) Daniel Whitehead, whose will is packed with Maryland names, such as Hicks and Thurston):
A case involving the charter of a vessel came before the court at its 1664 session. Raymond Staplefort and John Bayley were joint owners of the bark Providence of Patuxent. Staplefort chartered this boat, the charter being made at Foulstone Creek, or Oyster Bay, New York. It was chartered to two freighters [The two "freighters" were in fact John Hawkins, -a John Hawkins married into the Rawlings family by way of marrying into the Griffin family, and gave John Rawlings his bequest of a named horse- and Thomas Wills/ Wells] who soon afterwards told him he might never see his vessel again. Staplefort asked the court to put the freighters under bond to return the ship in safety.

The freighters sued Staplefort for holding up the vessel. It then developed that Bayley and Staplefort had had a quarrel, which had been heard at a previous session of the court. The dispute broke out again and at a later session is was shown that while Bayley was away from home Staplefort had removed from his room a quantity of merchandise, and hid it in various places. The sheriff's [Thomas Sprigg] tour of discovery to locate various articles is told in detail. Staplefort was brought into court October 14, 1665 charged with theft, but after considerable conflicting testimony had been offered, the jury refused to convict him of felony and he was released (pages 375, 379, 435, 450, 498-503).
This same John Bayley, partner of Staplefort, seems to have had business dealings with Anthony Rawling's son John and his step-father, who appears in the records as "Michael Bayley", who were residents of Calvert County at the time of the suit:
Proceedings of the Provincial Court, 1663-1666
Volume 49, Page 109
:
Provincial Court Proceedings, 1663-64. 109:
John Balley dds writt agst Michael Bayley & John Rawlins Accon Debt for 4360t Tob & cask. Wart to sheriffe Caluert County to arest &c:

To the honble the Gouernor & Councell of Maryland &c: The humble Pet0 of John Balley Sheweth That Michael Bayley & John Rawlins stand indebted unto yot Petr by Bill in the sume of 4560t Tob. & cask, yor petr hauing demanded the same, & noe satisfaction receaued from eyther of them. Hee humbly craueth order from this honble Court agst the sd Bayley & Rawlins for his sd Debt, wth Costs of suite, & hee shall
pray &c:


Petition of Thomas Sprigg
: mentions that he lived in Virginia:
Proceedings of the Provincial Court, 1666-1670
Volume 57, Page 65
Provincial Court Proceedings, 1666.
Sprigg v. Staplefort:
To the Honoble the Governour and Councell of the Province of
Maryland

Thomas Sprigg of the Resurreccon Mannor in Calvert County gent Complaynes against Raymond Staplefort of Great Eltonhead Hundred in the same County Merchant For that whereas the sayd Thomas Sprigg is a good true and Faithfull Subject and a true and Faithfull Subject of our Soveraigne Lord the King and of Divers of his Progenitors late Kings of England from the tyme of his Birth hitherto hath behaved and Governed himselfe and of good Name Conversacon and Repute as well amongst Honorble and Worshipfull persons as all other Subjects of the said King and his Progenitors to whome the said Thomas Sprigg was knowne and wth whome the said Thomas Sprigg had any manner of way dealing was allwaies accepted Reputed and taken as well during his abode in the Kingdome of England as in the Collony of virginia and this Province of Maryland And Whereas alsoe the said Thomas Sprigg the One and twentyeth day of November One Thousand six hundred sixty and Five and for Foure yeares then last past and Continually after the said One and Twentyeth of november hitherto was and as yett is one of the Justices of the lord Proprietor & of this Province for Keeping the Peace in Calvert County and assigned to heare and Determine Divers Fellonyes Trespasses and other Misdemeanors in the sayd County Committed And the sayd Thomas Sprigg by the Whole tyme a fore sayd wherein the said Thomas Sprigg one of the Justices aforesayd as abovesayd hath remayned Justice to all According to the Lawes of this Province Equally and truely hath Administred, And in Exercising his Office of one of the Justices aforesayd and in all other his businesses and Accons without any Fault or Suspicon of Bribery, Perjury, breach of Oath or of any other Falsity or Crime whatsoever, unhurt and Innocent hath remayned and Continued, And whereas alsoe the sayd Thomas Sprigg was by the Honorble the Governour of this Province appoynted Sherriffe of Calvert County for the yeare One thousand six hundred sixty and Foure and by the bond of his Oath by him in that behalf e performed was Bound well and truely to Serve the Lord Proprietor in the Office of Sheriffe of Calvert County and to doe his lordships Profitt in all things that belongs unto him by way of his Office as farr forth as he could or might that he should truely and Rightfully treate the People of his Sherriffwicke and Doe Right as well to Poore as to Rich in all that belongeth to his Office, that he should doe noe Wrong to any man for any Guift, Favour, Hate or other affeccon, that he should duely Execute soe farr as he might all such Writts and Warrants as should be to him directed by Law full Authority and thereof should make true Returne, And whereas the said Thomas Sprigg during the whole tyme wherein he was Sherriffe of Calvert County aforesaid well Honestly and according to the Forme of his Oath in all things himselfe behaved and Carryed and all writts in the Courts of the said Lord Proprietor and for the Good People of this Province, well truely and Honestly dilligently and Faithfully as sherriff to his Ability and Knowledge by the whole tyme he was Sherriffe served and Returned without any Negligence Pravity, falsity, or Deceipt, by reason whereof the said Thomas Sprigg the good Will and likeing of the Honorble Charles Calvert Escp Leivtennant Generall and Chei fe Governour of this Province had merrited and obteyned Notwithstanding the said Reymond Staplefort not being Ignorant of the Premisses but meaning him the sayd Thomas Sprigg in his good name Fame Estimacon and Reputacon aforesaid greatly to hurt and make worse and to bring him the said Thomas into Scandall Infamy and Disgrace as well amongst all Honorable and Worshipfull persons as amongst his Neighbours and other Faythfull people of this Province And more Especially to Cast him the said Thomas Sprigg into the grevous displeasrue of the Right Honorable the Lord Proprietor and the Honorble the Leivtennant and Cheife Governour of this Province aforesayd and to cause him to be punished for Faishood and breach of Oath in the Seüall places of Trust in him Reposed as of Justice of the Peace and late of sherriffe of Calvert County and to take away his testimony in any Cause whether Criminall or Civill and soe to render him Infamous upon Record to all posterity, The aforesayd One and twentyeth of November One thousand six hundred sixty and Five att Robert Kingsburyes in Calvert County in open Court theis falce Feyned Scandalous and Malitious words following of the said Thomas then being as aforesayd one of the said Justices of the Lord Proprietor assigned For keeping the peace in Calvert County aforesaid and to heare and Determyne divers Fellonyes trespasses] and other Misdemeanors in the sayd County Committed And being Called from the Bench where for that Court he Satt as Judge to give his Testimony in a Cause depending betweene him the sayd Staplefort and John Bayley of Calvert County Merchant in the presence of the sayd Court and hearing of very many of the good people of this Province then and there being openly and publiqly and faisly Scandalously and Malitiously Did speake utter publish and Proclayme That is to say You the said Thomas Sprigg meaneing are Con fedate with Bayley him the sayd John Bayley meaneing and have falsyfyed your Oath to the Lord Proprietary by reason of the Speaking and publishing of which false Feygned Scandalous and Malitious Words chargeing him the sayd Thomas with Hatefull Perjury and base breach of Trust the sayd Thomas not only in his good name Fame Estimacon and Reputacon aforesayd wherein he was before that tyme Endued is much hurt and made Worse but alsoe is brought in Danger of the Grevious Censure of the Governour and Councell and and Divers great Sumes of Money in this behalfe for the manifes tacon and Cleering his Innocence in the Premisses was forced and Compelled to Lay out and Expend to the Dammage of the sayd Thomas Sprigg Five hundred pounds sterling And thereof hee bringeth his sute

Thomas Sprigg Plaintiffe
Reymd Staplefort Deft
The deft put's in his answere (uizt) The Defendant Demurreth in law, that whosoeuer informeth On behalfe of the King Cannot be Molested nor Sued for his informacon let it be right or wrong
This answere not being allowed sufficient The Defendant was demanded, if he could proue those words spoken by him and sett downe in the Declaracon—Answered, I cann, being askt againe if he would doe it Answered, I could, then askt how hee Could, Answered att Prsent he could not for want of some meanes that is not at present wth hime
Whereuppon it is Ordered, That the Defendt Reymound Staplefort be Committed into the Sherriffs Custody, there to lye and remaine untill hee giue in Sufficient Security for his appearance the next Prouinall Court to answere the said suite and abide Judgmt therein
The Archivists also write about a Richard Bayley, Innholder, of
Harvey Town
, Calvert County [now St. Mary's], who may be related to the other Calvert County John Bayley: (There is also an Ambrose Bayley in Charles County).
Proceedings of the Provincial Court, 1675-1677
Volume 66, Preface 26
"Seven seamen from Weymouth, England, belonging to the ship or pink John of Weymouth, William Drady master, could not collect the wages due them. The term "pink" was applied to different types of vessels of which the chief common characteristic was a high, narrow stern. Accordingly, they authorized Richard Bayley or Bayly, innholder, then of Harvey Town, Calvert County, to sue John Parker, Captain Drady's executor, for their time and service done in the pink (post, p. 258). Bayley did sue Parker, and also William Dare, who had become in turn executor to Parker (post, pp. 166, 347, 410), and the case was settled out of court. Dare paid over to Bayley 6000 pounds of tobacco, and Bayley gave him a receipt for it, and a release from "all wages & Demands whatsoever belonging or in any wayes apperteining to the Said Seamen . . . & all & Euery other matter Cause or thing whatsoever from ye beginning of ye world unto" the date of the release. Bayley had had to be prodded into giving the release. On the backside of it there is a note signed by George Masson, deputy sheriff of Calvert County, that he had "arrested Richard Bayly in ye Sute of William Dare ye first munday after ye Provinc" Court held in ffebry 1675 [/6] & ye said Richard Bayly was Discharged from me ye day following aboute ten of ye Clock in ye morning" (post, p. 259). And the release was not signed sealed and delivered until "after the Said Bayly was discharged from ye Sheriffe (ibid.)."
---
He was my great-to-the-eighth power grandfather, by way of his son, Thomas, and his grandson, Groombright.
Groombright Bailey left Maryland with his family around 1780, stopping for a few years near Old Redstone Fort in western Pennsylvania, and then moving on with an adventurous group to land at what is now Cincinnati in 1788. After some hard years battling floods and natives, Groombright, by then an old man of 85, travelled down the Ohio with his wife, Mary (a spry 75), and their three youngest children (two unmarried sons and a daughter who had married a widower and inherited three or four small children). Groombright died along the way and was buried in Illinois on a bluff overlooking the Wabash River in 1817.
---